winter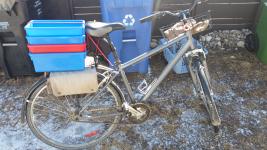 Tagged: bike diy opinion winter
This is a continuation of The Winter Huffy Build.
My first winter of riding a bike was a roaring success. I can proudly (and with much hubris) say that I never wiped out or had an accident, though I definitely had my fair share of moments where I lost traction. To that end, I'd like to give my own list of advice for anyone who wants to ride in the winter.
[ Keep Reading... ]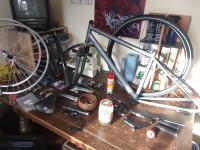 Tagged: bike diy project winter
Every year, after the first dump of snow, I roll my bike up in a tarp and pack it away for the winter. But this year was different. I had accumulated a ton of trash bikes, and replaced basically every mode of transportation I regularly used with cycling. I was having a great time, and when winter rolled around, the thought of going back to walking, riding the bus, and driving seemed like more of a bummer than usual.
As the months rolled on I became more and more determined. Could I keep cycling through the winter? I'd heard of people doing it, even in my city, which has a (perhaps undeserved) reputation for harsh winters.
[ Keep Reading... ]